Brief History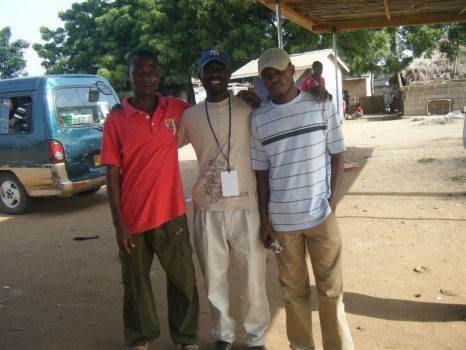 In 2010, God brought alongside both Minister Augustine and Minister Stephen to join the vision, and since then the three have faithfully continued this hospital ministry, visiting patients and praying for the sick.

The ministry has met the needs of some patients who could not afford their needed medication and we also endeavour to feed some abandon patients too. By this, we have had the privilege of reaching out to many people not only in the hospitals, but also in the villages and other places within Ghana.

On 14th March 2011, God spoke to the visioneer of SFCOM to broaden the vision of stepping into the world with the gospel of our Lord Jesus Christ to the unsaved.
Finally, on April 15th 2011, Souls For Christ Outreach Ministries (SFCOM) was born and registered with number G-36,299 as a Non-Governmental Organization (NGO), established under the Ghana company's code, 1963 Act 179. We are also registered and certified with the Ghana Revenue Authority (TMT 00016319), National Youth Authority (NYA/GAR/R/AC/0006) and Department of Social Welfare (D/S/W 5069).

Souls For Christ Outreach Ministries aim to reach souls, and win them to Christ (Proverbs 11: 30) and a vision of stepping into villages, communities, towns, cities, and nations of the world with the gospel of our Lord Jesus Christ to the unreached.

Souls For Christ Outreach Ministries is a ministry inspired by God, united in Christ, and empowered by the Holy Spirit to obey the great commandment and the great commission. It affirms its companionship in faith with other church bodies and all those who fear God and keep His commandments. The identifying teaching of Souls For Christ Outreach Ministries is centered on the experience known as the baptism in the Holy Spirit, evidenced by speaking in tongues and other gifts of the Spirit.

The purpose of SFCOM is to provide a framework for fellowship, dialogue, and cooperation between the various Churches, and Ministries in Africa and worldwide that agree with the purposes and goals of the organization. Since these Churches and Fellowships share a common history of Holy Spirit renewal and an overriding goal of evangelizing the world, we wish to join in a common witness to the outpouring of the Holy Spirit upon all flesh in the last days.

It is the desire of SFCOM to give expression to the inherent principles of spiritual unity and fellowship among believers, leaving inviolate the existing forms of government adopted by its members and recognizing that every freedom and privilege enjoyed by any group shall remain its undisturbed possession.

Souls For Christ Outreach Ministry is committed to the message of reconciliation through the cross and unity in the power of the Holy Spirit, which became a reality on the Day of Pentecost and was demonstrated at the outpouring of the Holy Spirit.

We intend to share more food, clothings, build Clinics, place of convenience for the public, Orphanages, learning centers, and schools for these villages we visit. It's our prayer to receive support to install Solar panels to provide light, drill boreholes, build clinics and places of convenience for these remote villages to visit in reaching the unreached with the gospel of Jesus Christ.

More pictures of villages we visited and events on mission trips over the years are posted in our gallery for the following villages: Agave, Akatsi Adetsewui, Abutia-Ameva and Akatsi Wlitey all in the Volta Region of Ghana.

All these villages have no Health Care Centers. There are no formal educations because appropriate school structures and learning facilities do not exist. Where there are erections used as classroom like the pictures below, the children cross rivers and some walk miles to the next village go attend school. The children and youth are illiterate. Majority dropped out due to the danger of having to cross the river and walk a long distance to school.

We believe in education that is why we are praying for help to assist these communities build BASIC SCHOOL STRUCTURES.
Vision
To step from town to town, village to village, nation to nation with the gospel of our Lord Jesus Christ to the unsaved ones.
Mission
This organization has a Pentecostal and Charismatic orientation and believes in the totality of the Bible. Our mission is to grow successful Outreach Ministry while honoring, growing, and enhancing the most valuable of assets; our relationships. We like to work with individuals and organizations that have skill sets that contrast and complement ours. We are committed to the betterment of those relationships by mutual respect and endeavouring to learn from and to teach our partners.
Aim
To be a Christian-based, non-profit organization that is financially supported by contributions and fund raising through the support and partners of this ministry. We want to be able: To reach souls, and win them to Christ (PROVERBS 11: 30). Our goal is to help alleviate all human suffering wherever possible by sharing food with the hungry, clothing the naked (ISAIAH 58:7-8). Setting the captives free and sharing the light and the love of Jesus Christ. A Religion that God accepts as pure and without fault is this; caring for the orphans or widows who need help, and keeping yourself free from the world evil influence (JAMES 1:27).
Core Values
We respect the views of all persons we come into contact with irrespective of their sex, age, race, ethnicity and religion. We uphold the policies of transparency and accountability with our partners and donors, acting consistently with a view of achieving utmost success and positive impact in all projects and programmes we undertake with active involvement of planning, implementation, monitoring and evaluation.

God: We believe in one God, that He is Love and Truth, represented on this earth by His Son Jesus Christ who gave Himself for all mankind. We believe that the Gospel is inclusive and that our integrity should represent truth and service to all.

Relationships: We strive to be outstanding husbands, fathers and friends. We commit to seeing the value in all human beings whether they be family or friends.

Health and Sustainability: We are committed to a healthy lifestyle. A lifestyle that encompasses all we do. We will take care of our health, and maintain safe healthy ministry and projects. We are committed to preserving resources, by building an outstanding health care for societies and remote areas where the people need health care.


Profitability: We believe that we are to steward what we have been given. We strive to keep our outreach ministry and our projects as sound financial endeavors. We are committed to providing security for our societies, opportunities for our employees and our partners.

Teaching and Giving: We are committed to the betterment of humanity by teaching and giving. We believe that the essentials of life and success are skills that can be learned. With this principle in mind we excitedly share the things that we have learned with people who have been placed in our path. As we are blessed financially we acknowledge that the ability to gain wealth comes from the Author of Creation, and we commit to give back as we have been prospered.


Faith: we believe, we are and Can Do
Determined: we approach life with persistence
Honor: we are truthful
Focused on the task at hand
Diligent: we go the extra mile
Purposes
In response to the call of God and in unity with the whole Church—one, holy, charismatic, Pentecostal and apostolic—the purpose of the Souls for Christ Outreach Ministry is to make known the good news of saving faith in Jesus Christ, to encourage a Christ-like life among its congregations and their members, and to carry out Christ's redeeming work of love, mercy, and justice in the world.
To relate to one another as members of the body of Christ.
To demonstrate the essential unity of Spirit-filled believers in answer to the prayer of Jesus in John 17:21, "That they all may be one."
To foster the evangelization of the world through the preaching of the gospel, with signs and wonders and the demonstration of the gifts of the Holy Spirit, by presenting Jesus Christ as the only Savior, Baptizer in the Holy Spirit, Healer, and Coming King. (Mark 16:10-20)
To promote and encourage the Evangelism/Charismatic revival and renewal in Africa and throughout the world.
To serve as a forum of spiritual unity, dialogue, and fellowship for all believers worldwide, crossing all cultural and racial lines based on mutual equality, love, respect, and sound doctrine. (Acts 2:42)
To preserve mutual love and respect for each member group, maintaining "the unity of the Spirit in the bond of peace." (Ephesians 4:1)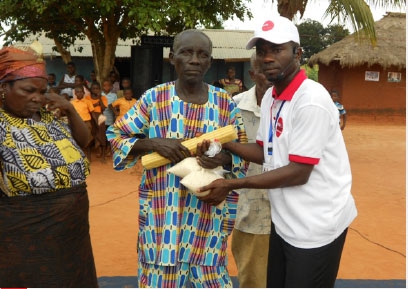 Aged Men & Women
We held a program in the Volta Region where we gave the people bars of soap, clothes, kilos of rice, shoes, and accommodation. The aged were not left out, just that our resources were overstretched. We pray that on our next mission trip we can provide the aged who are unable to walk with wheel chairs and also it is our dream to build a homecare center for the aged where trained staff will provide them with the care and attention they need.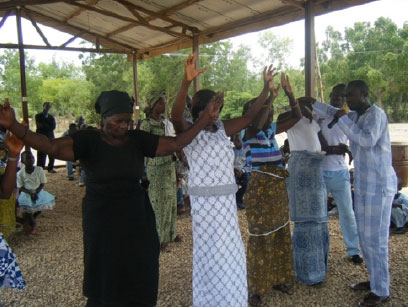 Widows/Widowers
We sometimes come across pathetic stories about widows, who are abused and sacked from their homes by families of the dead husband with all kinds of accusations, intentions, and interpretations as they give to the cause of the death. SFCOM want to be God's extended hand of help to them in every way possible. As per our resources, we will provide them with food, shelter and clothes, set up small scale business for those of active ages who can still run some kind of business activity to support themselves. We trust that we can be of blessing to more widows and widowers not only in one or two regions but country wide as the Lord gives grace.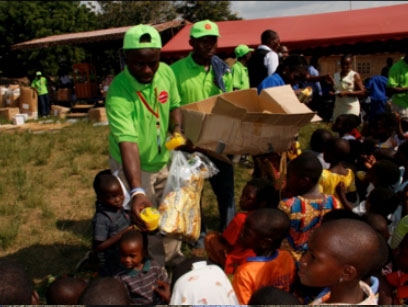 Poor Single Parents/Orphan/needy children
Single motherhood has become a menace in our rural areas. Most a times we chance upon mothers and children with irresponsible fathers. Sometimes these fathers have given up on themselves and in life so they find it a waste of time to keep tolling to fend for their families. They relocate leaving the mothers and children to fight for survival. In such situations, mothers and children get abused in every imaginable way. Some Children are now orphan and needy without any hope for the future that awaits them. Until we extend a helping hand to nurture these children, their dreams and God's purpose for them will be lost and unfulfilled. These are the group of people we look out for to extend the love of Christ to them. We plan that with such groups, occasional visits with food, clothes, books and pencils for their education etc. accompanied some donors will be a dream come through.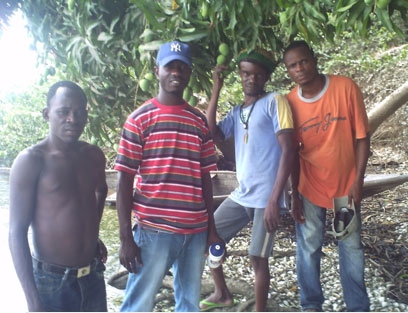 Unemployed Village Youth
We also meet youths who are drop-outs from schools due to one or two reasons relating to poverty or a kind of irresponsibility on the part of parents / guardians. Others have also passed school going age yet not trained in any vocation. Disadvantaged, deprived, and uneducated, the fact remains that they are our future leaders. And the earlier we begin a rescue mission giving hope through the creation of jobs and other vocations for them the safer the future becomes with Christ Jesus our Lord. The SFCOM mission program for this target group together with your support is to provide vocational training and seed money to establish them. However, for monitoring purposes, with the help of the chiefs and elders in the community in question, patrons will be appointed to help facilitate this program for successful outcome.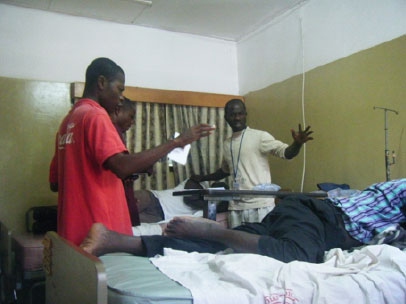 Hospital Ministration/Persons with HIV/AIDS
We always hear this scripture repeatedly ring in our heart; - Matt 25:35-45 (35) For I was hungry and you gave me something to eat, I was thirsty and you gave me something to drink, I was a stranger and you invited me in, (36) I needed clothes and you clothed me, I was sick and you looked after me, I was in prison and you came to visit me.( 37) "Then the righteous will answer him, 'Lord, when did we see you hungry and feed you, or thirsty and give you something to drink? (38) When did we see you a stranger and invite you in or needing clothes and clothe you? (39) When did we see you sick or in prison and go to visit you?'(40) "The King will reply, 'I tell you the truth, whatever you did for one of the least of these brothers of mine, you did for me.' (41) "Then he will say to those on his left, 'Depart from me, you who are cursed, into the eternal fire prepared for the devil and his angels.

(42) For I was hungry and you gave me nothing to eat, I was thirsty and you gave me nothing to drink, (43) I was a stranger and you did not invite me in, I needed clothes and you did not clothe me, I was sick and in prison and you did not look after me.' (44) "They also will answer, 'Lord, when did we see you hungry or thirsty or a stranger or needing clothes or sick or in prison, and did not help you?' (45) "He will reply, 'I tell you the truth, whatever you did not do for one of the least of these, you did not do for me.' (NIV).

Sickness / illness can be one of man's darkest moments in life when nearly everybody around us out of being tired or fed-up deserts us. At SFCOM we find these moments' opportunities to give strength, love and prayer to our sick neighbors at the hospitals as we praise and serve our King.

We want to hear the King mention it to us one day in his presence. So you can see here that visiting is our passion and we praise God always because He is our Healer and heals every sick we pray for. Glory to His name.

We look forward to supporting people living with HIV/AIDS in future through your assistance in kind and cash. In the meantime Souls for Christ Outreach ministry will continue to intercede for them and help create awareness to others that HIV/AIDS is real. Souls for Christ pledges to demonstrate and show love to all people stigmatized with HIV/AIDS and other diseases and predicaments.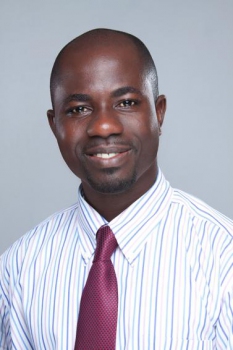 Prophet/Evangelist Edem Jubilant Mensah
Founder/ C.E.O. of Souls For Christ Outreach Ministries. I am a Prophet and an Evangelist of God, I had my diploma in the "STUDY OF CHRISTIAN MINSTRY' at LIFE LEADSHIP BIBLE INSTITUTE, after I was licensed and ordained by the LION OF JUDAH MINISTRIES, U.S.A Virginia Blackstone. I served for 10years under the Ministry of Overcomers Faith Center, headed by Rev. Ben Nanortey as my Spiritual father.

You can contact Prophet Edem on his
Mobile: +233(0)24-251-5981
E-mail: edemmen@sfcoutreachministry.org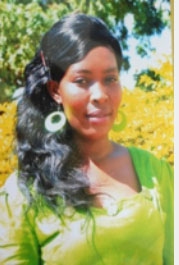 Abigail Okaibea Mensah
Greetings to you all lovely people of God. I bring to you peace and good news of our Lord and Master Saviour, who died and rose on the third day, sitting on the right hand side of God interceding for you and I. Abigail Okaibea Mensah is my name; I had my Diploma in Business Secretarial (DBS) at College of Professional Studies, Tema Ghana-West Africa and currently the Executive Secretary for Souls for Christ Outreach Ministries. Am married with four children. Reading, writing and listening to music are my hobbies.

You can contact Abigail on her
Mobile: +233(0)54-117-1521
E-mail: abigail@sfcoutreachministry.org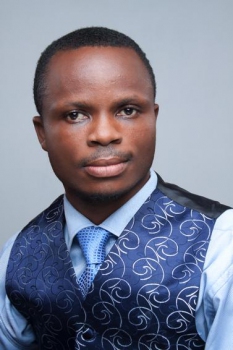 Augustine Baku
My name is Augustine Baku; Director of Missions for Souls for Christ Outreach Ministries. I had my Bible Ministry Training at Harvest Bible College (HBC) where I obtained a Certificate in Church Ministry. Am an Evangelist and a singer. I served under the Ministry of Rev. Ben Bernard Nanortey for 8yrs and was my Spiritual Mentor. God bless you as you keep praying and supporting SFCOM in reaching the unreached with the gospel of Christ Jesus.
You can contact Minister Augustine on his
Mobile: +233(0)24-715-1889
E-mail: augustine@sfcoutreachministry.org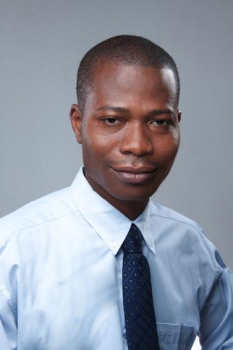 Kofi Terkutey
My name is Stephen Kofi Terkutey. I started working with Souls For Christ Outreach Ministry in April 2010 and Currently the Deputy Director of Missions Outreach Ministry. I am an Apostle of Jesus Christ; I studied at Life Leadership Institute and hold a Diploma in Pastoral Ministry. My spiritual gift is impacting the world with the Gospel of our Lord Jesus Christ. In John 9:4, the Bible says "I must work the work of him that sent me while it is day; night comes that no man can work". God bless you richly, we greatly appreciate your visit to SFCOM website.

You can contact Minister Stephen on his
Mobile: +233(0)26-806-6076
E-mail: stephen@sfcoutreachministry.org